COVID-19 Information – Vaccine Program  
 ALL Updates will appear below – Vaccine Appointments Available Online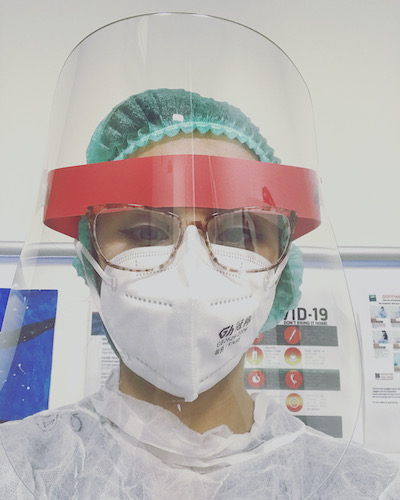 COVID-19 VACCINE NEWS: Update for Victorians aged under 60 years (17th June 2021)
We are currently an approved vaccination provider for the AstraZeneca COVID-19 vaccine only. We currently have no access to the Government's Pfizer vaccine. For state updates on the Commonwealth's COVID-19 vaccination program, please visit the Department of Health. All Victorians aged over 40 have now been included in the current Vaccination Rollout, in addition to those previously eligible for Phase 1b.
All patients aged over 60 years are currently advised to receive the AstraZeneca vaccine COVID-19 vaccine. The latest health advice on the rare but serious clotting and low platelet side effect following the AstraZeneca vaccine by ATAGI can be reviewed here.
All patients aged less than 60 years are currently recommended to receive the Pfizer vaccine. You can book online or you can also book at a state funded vaccination hub on 1800 675 398 to receive Pfizer vaccine. You can still choose to have the AstraZeneca vaccine if you are <60 years of age where the benefits of having this done earlier outweigh the risks. What to expect after your Astrazeneca Vaccine.
For those who are under 60 years old and have already booked their 1st AstraZeneca Vaccine, we advised you to please cancel your appointment through your HOTDOC app.
However, if you are due for your second AstraZeneca vaccine and under 60 years of age, please DO NOT cancel your appointment; we advised you to complete your second dose.
COVID-19 vaccination bookings (Saturdays from 1300) remain available ONLINE only, via the HOTDOC app or via our website. You may reschedule at any time via the HotDoc App or via your email confirmation. Conveniently there is ample parking onsite, and the timing allows you to rest up on Sundays after your vaccine. If you have any concerns please speak to your GP prior to booking in for your vaccination. Please refrain from calling the practice as our reception team will only reiterate the information presented here.
Flu Vaccine Update: Flu Vax Clinics are available Weekdays ONLINE via the HOTDOC app or our website. A one week separation is required between any COVID-19 vaccine and Flu vaccine appointments. These vaccines can be received in any order, not together.
Before you book online for your vaccine:
Please keep up to date with any changes on this webpage as we continue to provide you with the evolving information. Further information is at covidvaccineenquiries@health.gov.au, or via the National Coronavirus Hotline 1800 020 080.
VACCINE ELIGIBILITY: Please see the online calculator to help review when you are eligible for a vaccine. Phase 1b and Phase 2a of the current vaccine rollout is currently underway. All patients over 50 years old, health care workers, Critical & Emergency workers and ATSI are eligible. Phase 2b to cover the remaining adult population aged over 18 years.
The Pfizer (Comirnaty vaccine is recommended for people under the age of 50, and for anyone aged 16 years and above with the following:
A past history of cerebral venous sinus thrombosis (CVST)
A past history of heparin-induced thrombocytopenia (HIT)
A past history of idiopathic splanchnic (mesenteric, portal and splenic) venous thrombosis
Anti-phospholipid syndrome with thrombosis
People with contraindications to COVID-19 Vaccine AstraZeneca, i.e.

Anaphylaxis to a previous dose of COVID-19 Vaccine AstraZeneca, or to an ingredient of the vaccine
Thrombosis with thrombocytopenia occurring after the first dose of COVID-19 Vaccine AstraZeneca
Other serious adverse events attributed to the first dose of COVID-19 Vaccine AstraZeneca
We will regularly update this COVID-19 page and our Facebook site with instructions from various Government agencies. for more official information, see here.
SMARTVAX
We recently installed and activated SmartVax, a patient safety program developed by a GP in Perth. Patients with any vaccinations at our clinic will receive an SMS three days after their injection to check their progress and well-being. If there are any significant issues, their GP will be notified. For more information please visit smartvax.
Regular Care:
We are a private billing practice for all types of consultations, including telehealth. Please book a face-face appointment if you have not been seen onsite at our practice within the last 12 months. Medicare changes require an in-person appointment at the practice, which then allows you access to telehealth services for the coming 12 months.
Please do not defer regular healthcare or cancer screening.
We remain open during COVID-19, offering patients Remote Health Consults by phone, video AND where necessary, private face to face services. These include:
Cancer screening
Preventative checks
All vaccinations
Routine procedures
Book an appointment via our HotDoc Online booking system.
Patient procedures for face to face appointments
Entry into the clinic is by appointment only.
1. Please wait in your parked car until you are called up asking to enter the clinic (during lockdowns, temporary signage will advise you about clinic entry).
2. If you have been advised by your doctor to quickly pick up any pre-arranged documentation, please use the front main entrance (ramp access) or check with a staff member.
3. Please call us for any concerns or queries about entering the clinic and stay safe.
We kindly ask all patients attending our practice for in-person appointments to please wear a mask prior to arrival, preferably your own reusable one. This follows Victorian government advice to help keep patients and staff as safe as possible. If you are diagnosed with COVID-19, please get in touch with us for further advice regarding your care.
Our COVID-19 response will greatly help reduce the risk of exposure for our staff and to patients. Flu vaccine sessions are available with safe, dedicated in-clinic vaccine administration. Please call to check vaccine availability or wait list. If you have any health concerns please book appointments online or on 9598 6244.
For further information about COVID-19 please see clinic news, and for information about self-swabbing here. If at risk, please review self isolation guidelines at the useful symptom checker site.
Please practice good personal hygiene and social distancing by avoiding mass gatherings, visiting the elderly or those at risk, or by wearing masks. Dedicated COVID-19 testing clinics exist near major hospitals including Monash Health Clayton and Alfred Health.
Alternatively we recommend you follow current status updates, download the Coronavirus Australia app or ring the national hotline on 1800 020 080. For the Victorian Health Department please call 1800 675 398 or visit the Victorian COVID-19 website. Lastly to reduce COVID-19 spread, please download the COVIDSafe contact tracing app.
Our Psychology team are available and continue to offer mental health consultations remotely, via telephone and video conferencing options. Currently 30 or 50 minute appointments are available, please see here. Call 9598 6244 or go online to make an appointment or to seek help.