COVID-19 Information – Bluff Road Medical remains Open in Lockdown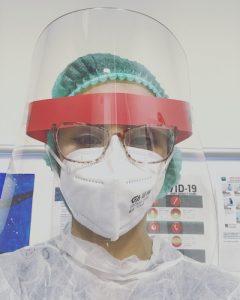 Please do not defer regular healthcare or cancer screening.
WE REMAIN OPEN during COVID-19, offering patients Remote Health Consults by phone, video AND where necessary, private face to face services. These include:
Cancer screening

Preventative checks

All vaccinations 

Routine procedures
Book an appointment via our HotDoc Online booking system.
Patient procedures for face to face appointments
During the lockdown period, entry into the clinic is by appointment only.
1. Please wait in your parked car until you are called up asking to enter the clinic (red arrow signs will direct you to enter from a side door).

2. If you have been advised by your doctor to quickly pick up any pre-arranged documentation, please use the front main entrance (ramp access).
3. Please call us for any concerns or queries about entering the clinic and stay safe.
We kindly ask all patients attending our practice for in-person appointments to please wear a mask prior to arrival, preferably your own reusable one. This follows Victorian government advice to help keep patients and staff as safe as possible. If you are diagnosed with COVID-19, please get in touch with us for further advice regarding your care.
Our COVID-19 response will greatly help reduce the risk of exposure for our staff and to patients. Flu vaccine sessions are available with safe, dedicated in-clinic vaccine administration. Please call to check vaccine availability or wait list. If you have any health concerns please book appointments online or on 9598 6244.
For further information about COVID-19 please see clinic news, and for information about self-swabbing here. If at risk, please review self isolation guidelines at the useful symptom checker site.
Please practice good personal hygiene and social distancing by avoiding mass gatherings, visiting the elderly or those at risk, or by wearing masks. Dedicated COVID-19 testing clinics exist near major hospitals including Monash Health Clayton and Alfred Health.
Alternatively we recommend you follow current status updates, download the Coronavirus Australia app or ring the national hotline on 1800 020 080. For the Victorian Health Department please call 1800 675 398 or visit the Victorian COVID-19 website. Lastly to reduce COVID-19 spread, please download the COVIDSafe contact tracing app.
Our Psychology  team are available and continue to offer mental health consultations remotely, via telephone and video conferencing options. Currently 30 or 50 minute appointments are available, please see here.  Call 9598 6244 or go online to make an appointment or to seek help.