Contact Us
Ph: 9598 6244 (International +61 3 9598 6244)
Fax: 9521 0514 (International + 61 3 9521 0514)
Address:
328 Bluff Road,
Sandringham VIC 3191
(Melway Map Reference 77 A10)
* You are able to leave a message with the reception staff for your doctor. Our clinical team will endeavour to return your call at their earliest opportunity.
Results Hotline
Ph: 9599 8288 between 2pm and 3pm, Monday to Friday.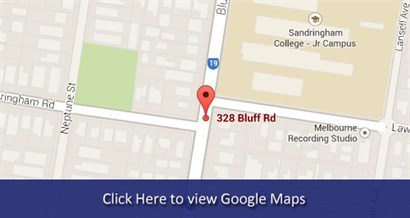 Feedback
As a patient-centred General Practice, Bluff Road Medical Centre welcomes patient feedback. The partnership you form with your GP is critical to you having the best available healthcare.  Therefore, it is important you feel confident in being able to discuss any issues that may impact upon our medical service to you.  We value patient feedback and take your suggestions or concerns seriously.
You may wish to place any written comments in our suggestion box, located in the main waiting room at our family clinic in Sandringham. If you do have any concerns, we encourage you to please first contact us, or speak with your doctor. If you feel you require an external avenue, you may contact the Health Complaints Commissioner on 1300 582 113.
Business Admin Enquiry Only
Please ONLY use this Contact method for NON-MEDICAL or ADMIN ISSUES.
For ANY matters related to doctor consultations, please RING the clinic directly on 9598 6244.  
Privacy: Please note this correspondence is not encrypted or suitable for sensitive medical information. 
Please enter your contact details in the space provided below: