Rebecca (Podbury) Purvis – Driving O.T.
REBECCA (PODBURY) PURVIS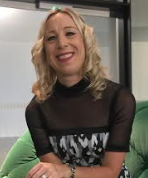 OCCUPATIONAL THERAPY DRIVER ASSESSOR
B.Hth.Sci.(OT); MBA (Exec); Cert. OT Driver Assessment
Consults:
By appointment
Specialty Interests
Rebecca has specialist post-graduate qualifications in Occupational Therapy Driver Assessment and Rehabilitation and is a VicRoads registered driving assessor. Rebecca is AHPRA registered and an OT Australia member.
Rebecca has been working as an Occupational Therapist in Australia and the United Kingdom for over 18 years and has experience in many areas of Occupational Therapy practice from the acute hospital setting, inpatient rehabilitation, community and occupational rehabilitation. Rebecca has experience working with a diverse group of clients with a wide variety of physical and psychological conditions.
Rebecca's interests outside of work include travel, the outdoors, running and enjoying time with her friends, family and Labrador puppy.
For further information or to make an appointment, please contact Rebecca directly on 0448 699 153.
For further information please read OCCUPATIONAL THERAPY DRIVER ASSESSMENT